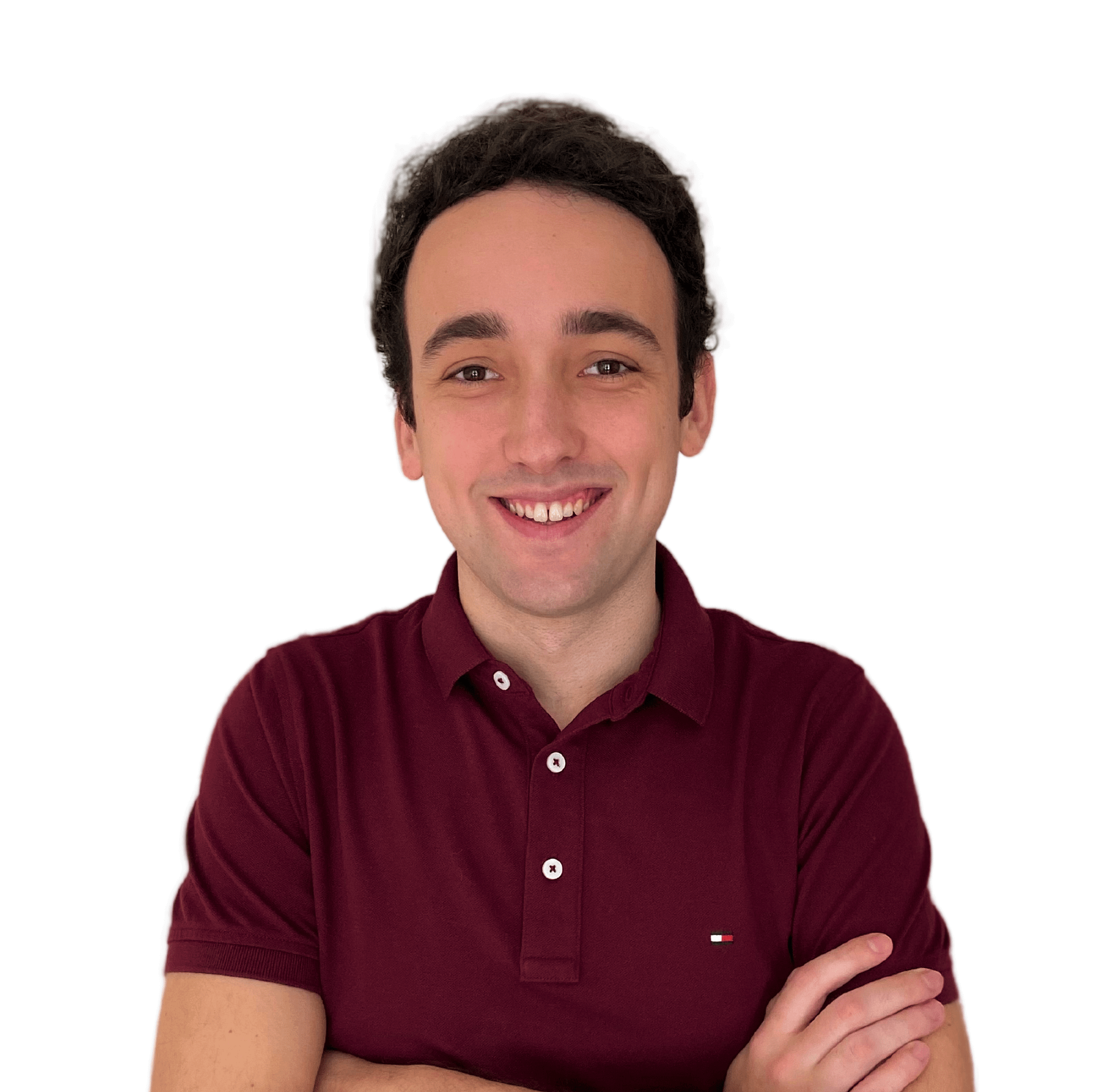 Innovation is an attitude.
About Me
Hello!
Driven by my curiosity, I wonder how the world works and how to make a positive impact on it. Since graduating as a Computer Engineer, I have focused on giving rein to my proactivity and motivation to give the best at work and, at the same time, develop other skills to grow as a person.
Age

23

City

Bilbao

Company

everis

Position

Public Sector Consultant

Studying

Project Management
A book
La puerta oscura - David Lozano
A Song
Instagram - Dimitri Vegas & Like Mike
A Place
Piazza Venezia, Rome
Resume
Work Experience
Public Sector Consultant
Currently working on projects for the United Nations, European Institutions and foreign governments. It's an exciting opportunity to have an impact on society and work side by side with the Public Administration.
Oct 2019 - Mar 2021
everis
Health Solutions Assistant
Involved in different projects developing applications and promoting innovation in one of the main public health organizations in Spain.
Jun 2018 - Sep 2019
everis
Student in Solutions
Full stack development and maintenance of the insurance platform of one of the leading companies in the insurance sector in Spain and Latin America.
Nov 2019 - Jun 2020
Egan Academy
Chief Technology Officer
Egan Academy is a personal development school that uses travel as the main transformation tool.
Sep 2017 - Aug 2018
University of Deusto
Research Scholar
- Development and design of the personal website and of COMPUS, an application for mobile devices, with Ionic.
- Management of all the data refering to the publications and projects in which the members of the team have participated.
Education
Sep 2019 - Now
Universitat Oberta de Catalunya
MSc in Cybersecurity and Privacy
Master's thesis named "The Basque Public Administration: present and future in terms of data protection and technological innovation".
Oct 2020 - Dec 2020
IE Business School
Project Management Executive Program
Integration of theoretical classes and practical cases to provide the knowledge and key methodologies for the management of projects and to develop communication and direction skills.
Leadership & Innovation Program
It has been developed so that participants learn to lead from self-knowledge and creativity, and to build teams and organizations with a culture of innovation.
Jul 2019 - May 2020
ThePowerMBA
ThePowerMBA
Business Strategy, Lean Startup, Finance and Accounting, Digital Marketing and Strategy.
Sep 2015 - Jul 2019
University of Deusto
Coding Skills
AngularJS / Javascript
95%
Volunteering
Feb 2020 - Now
Equipo Europa
Spokesperson for the Basque Country
Elected spokesperson for the Basque Country in the Spanish youth association Equipo Europa, whose goals are to promote the European Union amongst the Spanish youth and to foster their participation. My work consists of coordinating the +80 partners in the region and establishing alliances with public and private institutions.
Feb 2021 - Now
Global Shapers Bilbao
Shaper
The Global Shapers Community (a World Economic Forum initiative) is a network of inspiring young people working together to address local, regional and global challenges. With more than 10.000 shapers, this community spans 444 city-based hubs in 151 countries.
Feb 2021 - Now
Technovation Challenge
Mentor
Equipping young women (ages 13-17) to become tech entrepreneurs and leaders working in teams to code mobile apps that address real-world problems.
Jan 2020 - Now
Everis Foundation
Enthusiastic Volunteer
• Mentor at #SociosPor1Día: An initiative with Junior Achievement Foundation to give students the opportunity to have an experience close to the day to day of a company from the hand of professionals.
• Member of the junior jury: Everis Awards recognize the BEST entrepreneurial project based on high-impact technological innovation.
• Volunteer at Tech4Change: Help children at risk of exclusion and with attention needs to strengthen their abilities and motivate them to continue with their educational program through the use of technology.
Jul 2018 - Now
everis
#girlsgonna Ambassador
At #girlsgonna, we want to overcome gender prejudices associated with technology and show that there are no "girls'" professions or "boys'" professions. All of it through creative technologies, so you can express your ideas, develop your skills, and own your knowledge.
May 2020 - Jul 2020
Technovation Challenge
Head Judge
Technovation Challenge is a global tech education nonprofit that empowers girls and families to become leaders, creators, and problem-solvers.
Oct 2019 - Jan 2020
United Nations Volunteers
International Volunteer
As an international volunteer for the United Nations, I helped ASASS Nonprofit. My duty was to lead the development of the first mobile payment and microfinance application for Education in the Republic of Burundi (East Africa).
Awards
KPMG Ideation Challenge
Jan 2020
A student challenge like no other. The KPMG Ideation Challenge (KIC) is an experience designed to stretch our limits and challenge what we think is possible.
InnCub3 Awards are the recognition of innCub3 to employees who are making innovation and creativity add value to everis.
CEO for 1 Month 2019 Adecco Spain
May 2019
Selected out of 15,500+ applicants from all over Spain to participate in the final Assessment Center of the 'CEO for One Month' initiative by Adecco, aimed to become CEO of Adecco Spain for one month and learn top-management skills.
International Social Intrapreneurship Award
Apr 2019
Awards to recognize everis employees who lead technological and innovative projects with a strong social component and impact on the quality of people's life with a transformative impact in the environments where they are developed.
The Future Of Mobility
Mar 2019
An entrepreneurship event at the University of Mondragon, in collaboration with the Mondragon Team Academy entrepreneurship network. More than 150 entrepreneurs took part and only 10 of them were selected to attend the final in Madrid on 21 March. We won and developed the winning project in Alsa.
Bizkaia Talentia
Feb 2019
"The aim of this innovative initiative is to stimulate and encourage conditions and processes for the attraction, retention and linking up of highly qualified people to our nation where the participants will confront the real challenge faced by a company. " @BizkaiaTalent
Hack4Elder advantAGE is a 24-30 hours-long hackathon and brainstorming event. I had the opportunity to work with The British Red Cross.